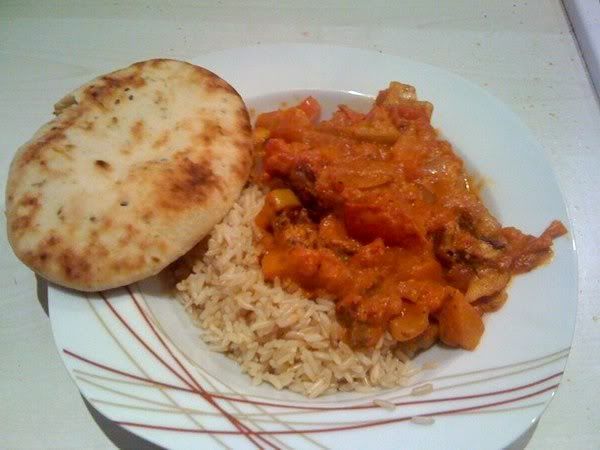 those who
follow me on twitter
might've noticed me post this last night. a tweaked version of
this recipe
, as posted on the guardian website last week - here are there weights and measurements, and you can of course find my tweaks and method below, as well as the all important taste test...

Preparation time: 5 mins
Cooking time: 40 mins
Number of servings: 4

Nutrition information per serving:
Calories: 455
Sugar: 32g
Fat: 9g
Saturates: 3g
Salt: 1g

Ingredients:
2 onions
400g of lean diced beef
1 tbs of curry powder
1 apple
100g of sultanas
2 tins of chopped tomatoes (400g each)
4 tbs of low fat yoghurt
1 tbs of olive oil
160g of brown rice, uncooked weight
i can't speak for how my tweaks effect the calorie intake and such, but i made 2 small portions (one for tonight!) with:
a portion of beef, with the fat removed, and cut into chunks
half an apple, chopped into chunks
a handful of raisins (for i had no sultanas)
1 tin of chopped tomatoes
3 tablespoons of natural yoghurt

1 heaped teaspoon of garam masala, and a sprinkle of curry powder
a sprinkle of coriander, salt and pepper
add the rice to boiling water in one pan.
in another* brown the beef in a little olive oil, then leave to one side.
add a little more oil to the pan, and cook the onions and garlic until soft, then add the herbs and spices and fry for another minute or so.
add the beef back into the pan along with the apple, raisins and tomato. let it simmer until the tomato juices reduce, then add the yoghurt.
the rice should be ready now (20 mins, ish), so serve up and enjoy!
i had a mini garlic+coriander naan, too, which went under the grill for a minute or two, so make sure to heat the grill up if you're also having a naan. shop bought, but one day i will get around to making my own naans, as i keep saying about pasta. i have the recipes!
*

if you don't already have one, get a non-stick wok. i use it for EVERYTHING - omelettes and pancakes come out perfectly shaped, and you can throw everything into it without fear of the bottom bits getting stuck in stir frys and curries. great for things like shallow fried chips too - again, no sticking (clue's in the title)
this is a wonderful curry - the apple is great, but the raisins were perfectly sweet and soft in the mixture. i don't know if sultanas would have had the same effect, but next time i'll definitely add more raisins than the small handful i added this time.
and for dessert?
well, i had to do something with the other apple half!
sweet fried apples with ice cream: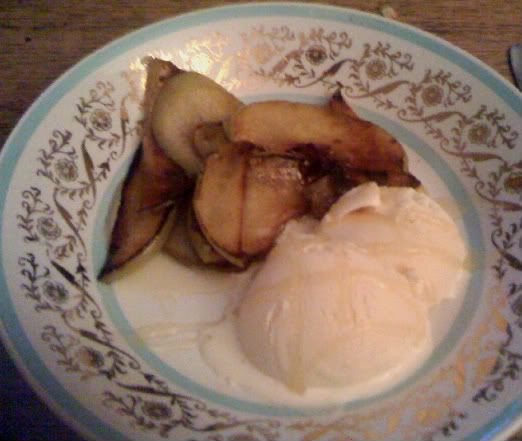 thinly slice half an apple.
heat up butter in a frying pan, and add the apple segments.
sprinkle sugar over the apple and fry for a minute or so.
turn the apple over and sprinkle sugar on this side - add more butter if you need to!
when brown on both sides, add to a plate with vanilla ice cream (mine is haagan daas, ofcourse) and drizzle with honey.
they should be sweet and crunchy but soft on the inside, and a great accompaniment to curry (but especially this one!)