yes we're alive, and yes we're eating.
we're both halfway through final year so meals are quick and easy.
i got an espresso machine for my birthday (delonghi, bright red, highly recommended) and bought a pasta machine from ebay (also red, not quite mastered the art of perfect looking pasta yet, but the taste is pretty good) and have taken to making soup on a sunday for the rest of the week (which inevitably lasts 2 days because i like my soup thick and when it boils down to the right thickness there's not much left).
today, i went on a baking spree, which you'll be aware of if you follow me on
twitter
. behold: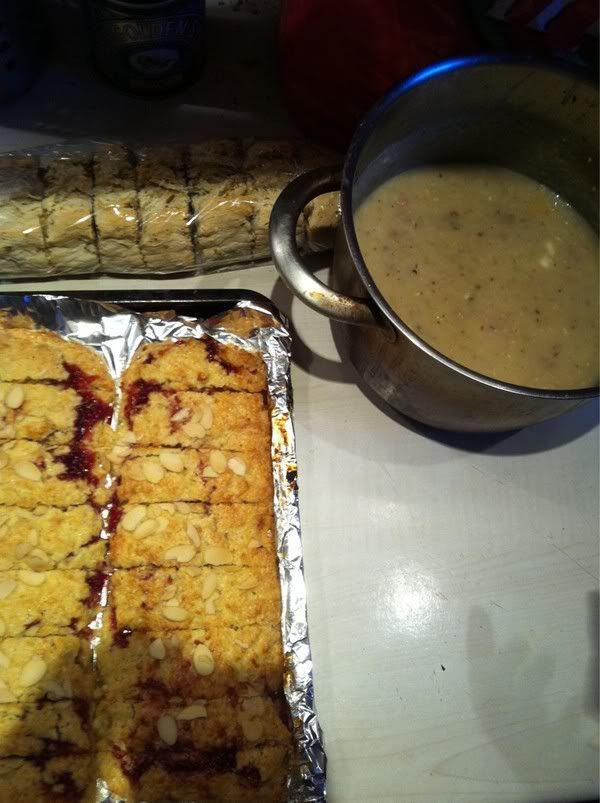 fennel and caraway seed baguette
the fennel and caraway seeds came in my graze box last week - highly recommended, especially if you have a free code from a friend - and because i'm not a huge nut eater i thought i'd put them in some bread.
i mixed white bread flour with self raising flour (because i didn't have enough white bread flour - about 350g of each, i reckon) and added salt, pepper and a dash of olive oil before stirring in the yeast/water mix. (no fresh yeast, just the granules - just as good!)
when the dough was together but a little sticky i turned it out onto the bench and kneaded it with plenty of flour on the bench and my hands, and tipped the box of seeds onto the bench, working them into the dough.
i then rolled the dough out into a baguette shape and popped it on a baking tray with some foil underneath, putting slashes in the top for decoration, and placing it under a medium oven for about half an hour (maybe a little longer - until brown and/or crispy on the outside.)
you could use almost any seeds for this - i have another tub of sunflower seeds i'm going to make some bread with next week - but the fennel and caraway give this loaf a spicy kick, and it tastes a little curry-y. delish.
potato, bacon and onion soup
serves approx 2, maybe more potatoes to soak up the water next time!
one large potato (baking potato sized...)
finely chop your onions and bacon,
and drop them into a large hot pan with butter. as they brown, peel and finely chop your potatoes and chuck this in the pan too, then add the salt, pepper, thyme and sage. fill about 2/3 with water and leave to simmer for about 15 minutes.
turn the heat down and use a potato masher to mash the potatoes a little, then turn the heat up again, adding the stock cube and creme fraiche, then let the water boil away until the soup is thick enough for you. i added a splash of cayenne pepper at the end to give it a kick.
jam and coconut biscotti
i got this recipe from google and it was from an american site - who knows how much a cup is? - so the measurements are completely made up (i worked off the amount of coconut i had, so let's assume 125g is 2 cups). but these are delicious.
splash of milk (or 2 eggs, if you prefer. i'm like, an egg nazi. no more than one in anything.)
jam & almonds for decoration
these are so easy to make. essentially, you just have to mix well...
mix the sugar into the butter, then add the coconut and mix. add the egg, mix, then the flour, and mix. add vanilla essence and milk if the dough is too dry, until you have a slightly sticky but stiff mix.
put two big dollops on a tray with baking paper (or tin foil which is all we ever have in the house) on it and spread these thinly with a knife.
you can either use bigger dollops and make two thick strips straight away (you can see my two strips in the above pic), or you can spread a thin layer of jam* across the first two strips and then add another two dollops on top of this and spread these out over the jam. pretty sure you could put anything between the strips of mix...
i added almonds to the top and baked for about 20-25 minutes, until crunchy on top. biscotti should be crunchy the whole way through, but this has ended up with a crunchy top and a softer, biscuit-y based. which is perfect, because i couldn't decide between biscotti or coconut biscuits.
*i used raspberry and vodka jam, as bought from tynemouth market ages ago!