orig recipe from
hellyeahrecipes
- and for once i didn't change a thing.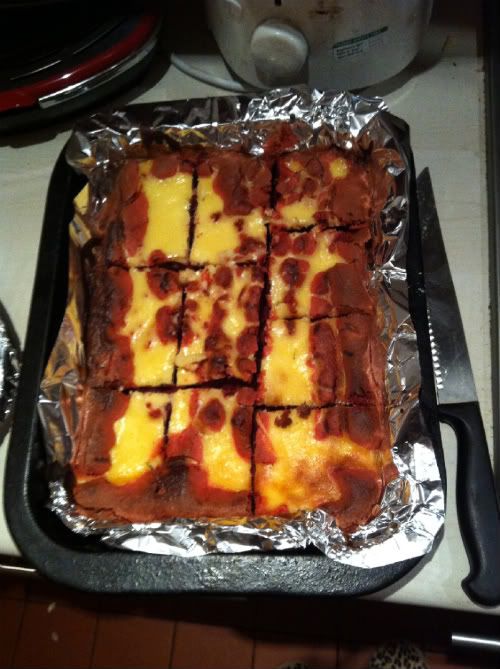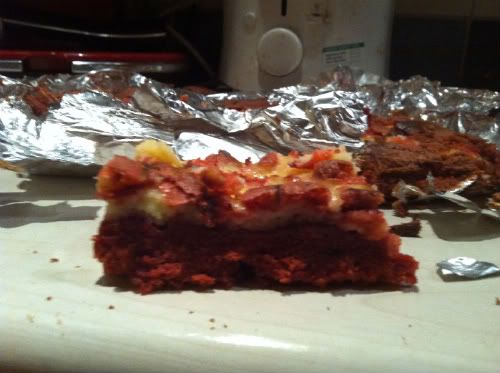 notes? if you have already got cup measurers; they're a good investment. i got mine for a couple of quid at morrisons; and if you bake a lot, lots of recipes on U.S. sites will use cups.
a small bar of dark chocolate should be enough (i bought a huge bar of bourneville and only used 2 rows. more for me!); a 200ml tub of cream cheese is the right amount.

everything below is copied and pasted from the orig post; italics are my notes - find the orig post through the above link!


ingredients

1/2 cup butter
2-oz dark chocolate, coarsely chopped
1 cup sugar
2 large eggs
1 tsp vanilla extract
1 1/2 tsp red food coloring
2/3 cup all purpose flour
1/4 tsp salt

8-oz cream cheese, room temperature
1/3 cup sugar
1 large egg
1/2 tsp vanilla extract


Preheat oven to 350F. Butter the bottom and sides of a 8 inch metal baking pan. Put a long piece of parchment paper in the bottom of the pan, letting the parchment extend up two sides of the pan and overhang slightly on both ends. (This will make it easy to remove the bars from the pan after they have baked.) Butter the parchment.
i never bother with any of this cos i'm lazy - tin foil across the bottom of the pan will do the trick, right?


In a small, heatproof bowl, melt butter and chocolate together. Stir until combined and very smooth. Set aside to cool for a few minutes.

In a large bowl, whisk together sugar, eggs, vanilla extract and red food coloring. Add chocolate mixture and stir until smooth. Add flour and salt and stir until just combined and no streaks of dry ingredients remain.

Pour into prepared pan and spread into an even layer.

To prepare cheesecake mixture, beat cream cheese, sugar, egg and vanilla extract in a medium bowl until smooth. Distribute the cheesecake mixture in 8 dollops over batter in the pan.

Swirl in with a knife or spatula.
i was concerned at this point that my batters were both pretty runny and the cheesecake mix was just going to sink but it seemed fine - swirling in is very much an aesthetic thing, and i was quite happy with my dollops.


Bake for 35-40 minutes, until brownies and cheesecake are set. A knife inserted into the cheesecake mixture should come out clean and the edges will be lightly browned.

Let cool completely in pan on a cooling rack before lifting out the parchment paper to remove the brownies.