I had an urge to bake and a craving for savoury that wasn't satisfied by anything in the house.
Also, some goat's cheese to use up. Solution? Cheese scones.

I knew I'd made goat's cheese biscuits before, but I wanted scones, dammit, so combined two recipes (this one and this one, in particular) to make these - double cheese scones.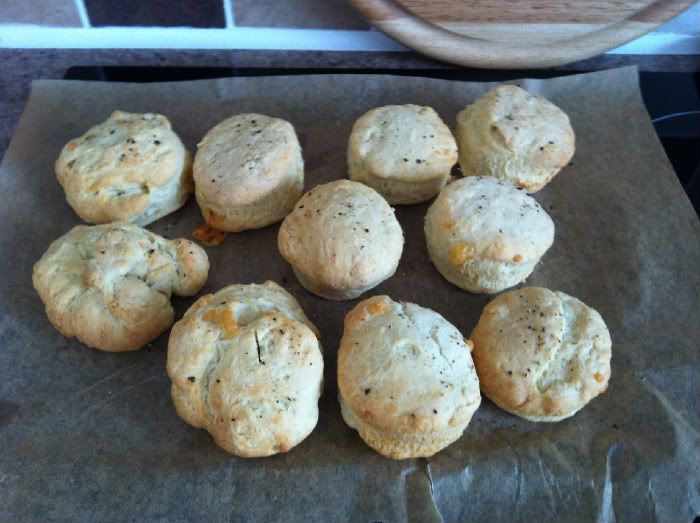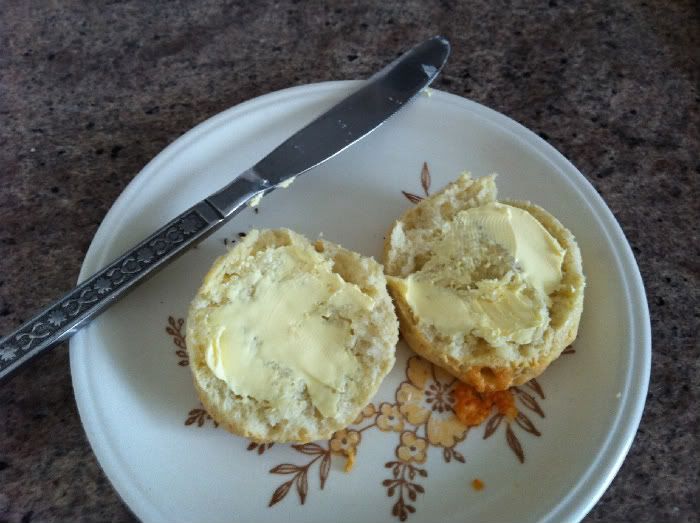 served with slightly garlicky butter
(born from an error when making garlic butter; the whole tub has a faint garlic taste...good job I love garlic)
225g/8oz self raising flour
pinch of salt
55g/2oz butter
25g/1oz mature cheddar cheese, crumbled
4 tablespoons (2 ounces) goat cheese, crumbled
150ml/5fl oz milk
butter for top
The measurements are as taken from the recipes, but because I am me, I just chucked some sieved flour in a bowl with salt, added butter and the chunks of goat's cheese and cheddar 'til it was breadcrumb-y and mixed in milk bit by bit 'til it was doughy.


Heat the oven to 220C/425F/Gas 7.

Mix together the flour and salt and rub in the butter and goat's cheese. Crumble in the cheddar mix that in too.

Make a well in the center of the flour mixture and pour in the milk (I used half semi-skimmed and half unsweetened soya milk, why not.). With a fork, mix together the milk and flour until all of the dry flour disappears.

Turn on to a floured work surface and knead very lightly. Pat out to a round 2cm/¾in thick. Use a 5cm/2in cutter to stamp out rounds and place on the baking sheet. Lightly knead together the rest of the dough and stamp out more scones to use it all up.

Brush the tops of the scones with a little butter - I added a dash of pepper too. Bake for 12-15 minutes until well risen and golden. Cool on a wire rack.