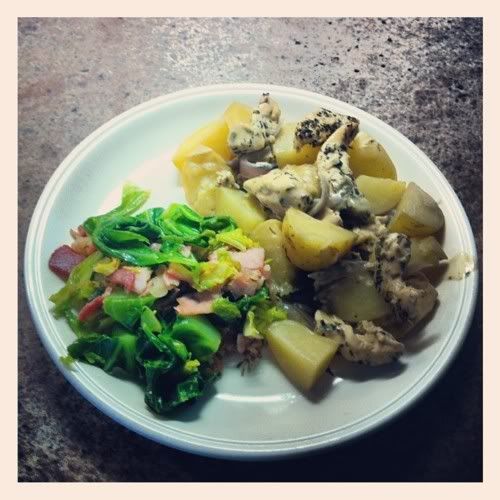 (Serves 2)
We have a lot of spring greens in the fridge. I came across the SG&B dish on the BBC Good Food site, so they can take the credit for that (though I'm still typing it out here), but the chicken and potato goodness was one of those 'chuck it in, see what happens' sort of ventures that I enjoy so much.
It turned out well.
My Mam (who is my only customer) said it was delicious and probably the best thing I'd ever cooked for her. So there's a good review for you.
For the Chicken
2 chicken breasts (or 4 goujons, as we used), cut into slithers
5 or 6 new potatos, cut into bitesize chunks
1/3 red onion, sliced
50g Philedelphia
1 chicken stock cube
1 tsb honey (ours has lemon in it, I recommend a few drops of lemon juice if yours is normal honey)
a few drops of worcester sauce
1 garlic clove, crushed
tarragon
coriander
salt
pepper
For the side
Half a head(?) spring greens, thinly sliced
2 rashers back bacon - the BBC recommended a smoked, thick cut bacon. But we like/only had normal, unsmoked back bacon. So there.
1/2 veg stock cube*
A knob of butter
Black pepper
*Again, the BBC says to cook the greens in veg stock water for 5 mins but I think this made it a bit soggy. Perhaps it just needs to really drain, for a few minutes even, but if you like your spring greens really crispy, in more of a 'crispy seaweed' sense, then forego the boiling/veg stock part and just hoy 'em in the frying pan with the bacon.
---
Chuck the chopped chicken and potatoes in an overproof dish with the herbs, salt and pepper and rub the herbs into them. Add the onions to the dish, and put all the other ingredients (except the Philly) into a jug with around 400ml of water until the stock cube dissolves. Pour the mixture over the ingredients in the dish and stick it in the oven on about 200º for about 40 mins (or until the chicken is cooked and the potatoes are soft).
---
Chop the greens and pop them in veg stock water to simmer for 5 mins.
Chop the bacon and add it to the butter in a frying pan. Add the greens and fry away until everything is crispy. Top with black pepper and serve.
---
When ready, take the dish from the oven and pop it on top of a medium heat hob. Add the Philly and stir it in, leaving it on the heat for a few minutes until it's mixed into the sauce and thickened it.
I had to leave the dish on the hob for quite a while as I found my sauce to be a bit thin, but I had put more water in than I've noted here so hopefully you won't have the same problem!
Enjoy!